We had the opportunity to customize for a local client an original North America Spec Land Rover Defender 90. The Defender had a rust free body and chassis, original frame with I.D. stamped, straight body and all original paint. #2480 is a fantastic example of how to customize and create your personal Defender 90 while maintaining an original look and feel.
This Defender was meticulously refreshed and upgrade as every piece of the exterior hardware was replaced with stainless steel. Additionally we rust proofed this vehicle by re-plating and heat treating all undercarriage hardware.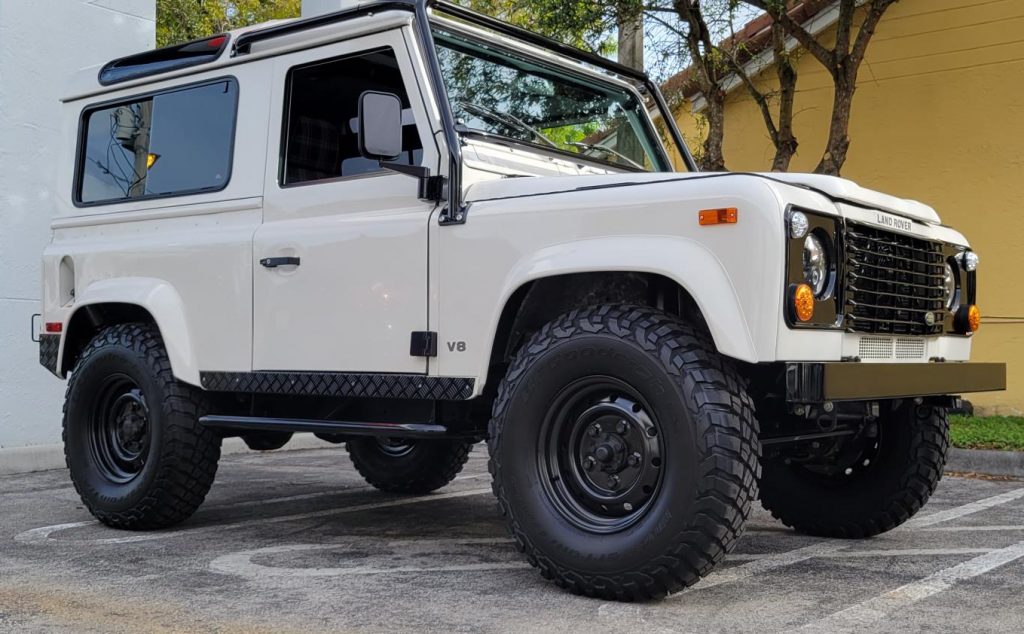 EXTERIOR & UNDERBODY
The body and paint on this Defender was in fairly good condition to start with as it had not dents or dings and had never been in any accidents. In fact most of the original paint was in perfect condition. This is mainly because these vehicles were all painted in a single stage urethane as they were meant as true off-road vehicles that would go up against various elements. Over the last 20+ years this Defender did have some fine scratches and marks.
The entire undercarriage was first cleaned with dry ice (CryoDetail) to remove all years of contaminants, dirt, debris and anything else that may have stuck over the years. This provides a beautiful refreshed undercarriage as well as a good working environment for any restoration or preservation facility. By removing all of the debris, we were able to get a glimpse of how well maintained and preserved this Defender 90 was (some before and after photos are shown in the gallery). The hardware is all original, re-plated and heat treated. The frame was cleaned completely, sanded down in areas that were rough and had a coat of rust-preventative satin black paint and a 2k urethane satin clear for ultimate appearance and protection.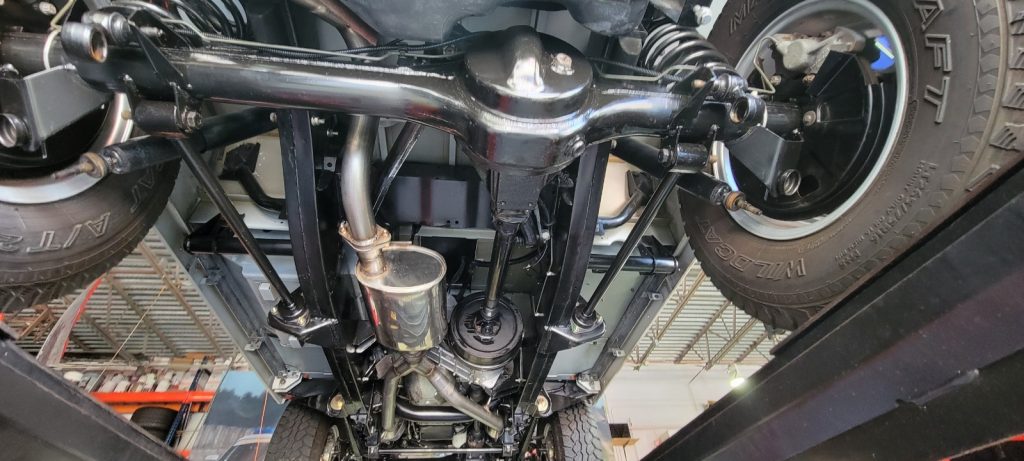 Like we do with all of our Defender projects; not a single nut, bolt, washer or component was left untouched. All suspension components were removed, cleaned, refreshed or replaced. Being very meticulous to ensure all components look as they should without sacrificing part integrity or appearance.
The brake system features front 4 piston calipers with vented rotors and rear 2 piston calipers with solid rotors. The brake calipers are the original Lockheed calipers with the original casting and date stamping but the calipers have been completely overhauled and rebuilt. New brake flex lines front and rear and an upgraded steel braided rear flex line installed. All brake fluid was flushed from the system and replaced with new DOT4 fluid. New brake pads and brake discs front and rear.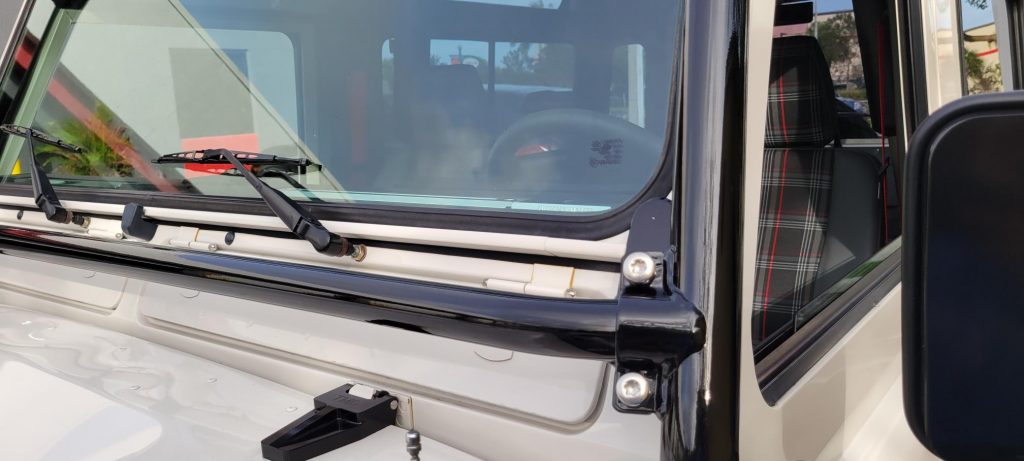 The exterior received a lot of cosmetic appearance upgrades and enhancements as well. All of the original hinges for the doors, front bonnet and rear door were removed and replaced with a cleaner black aluminized version with stainless hardware. The factory roll bar and side steps were removed and powder-coated with a gloss black finish and reassembled using stainless hardware. The original faded side view mirrors were replaced with aluminum black anodized versions (manual) and the door handles were also replaced with black anodized versions.
An original Defender front bumper was sourced to put the vehicle back to original look on the front which was gloss black powder-coated to continue the theme of the exterior.
All of the exterior lighting was upgraded and updated to LED lights. LED has a lower consumption and much better illumination at night. The front headlights are custom LED with integrated turn signals that provide a much more visibility when driving at night. The front marker lamps have original housings but now have LED bulbs. The rear tail lights have all been replaced with LED's as well. The rear light cages were removed and gloss black powder-coated.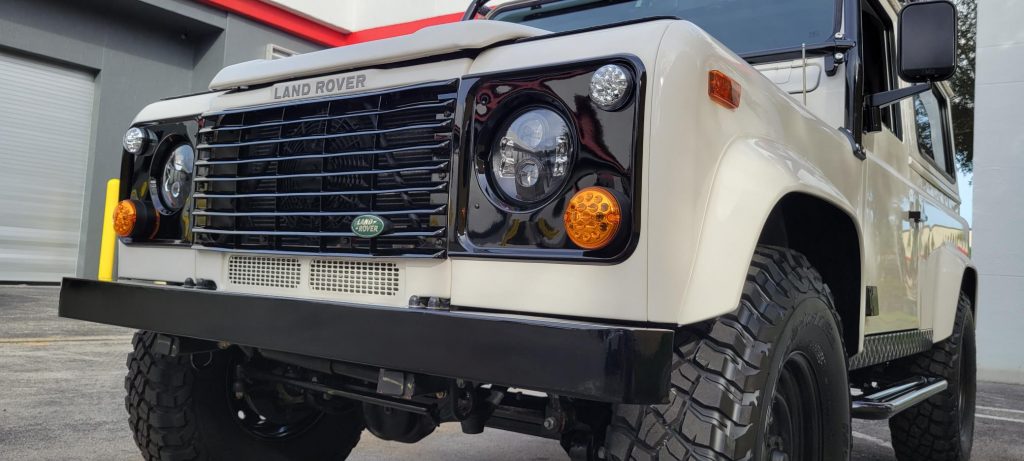 The hardtop on this 97 is the original and was already in nice shape when the truck arrived. It has been water-intrusion proofed based on the factory manual as well as the rest of the vehicle to ensure minimal to no water intrusion.
The original front grille and front light bezels were painted in a gloss black to match the other exterior components. All four original fender flares were removed and painted white to match giving a more modern look.
ENGINE, TRANSMISSION, EXHAUST
The engine is the original 4.0L V8 with automatic transmission, all matching numbers. All major services including spark plugs, central ignition coil, drive belts, air filter, fuel filter have been done. Transmission, front and rear differentials and transfer case fluids all serviced with factory fill fluids.
All of the wiring that is normally left exposed or hardly protected by factory was removed and cleaned and reinstalled with new protective sleeves. Not only does this create a much cleaner look it also provides protection to the wiring to prevent any possible issues.
The exhaust system is a stainless steel system that includes new stainless catalytic converters, pipes and center muffler to rear tip. Besides an increase in horsepower and torque the stainless will be corrosion resistant for years and outperform the original system. The exhaust note is also much deeper and gives a nice throaty V8 sound without being excessive.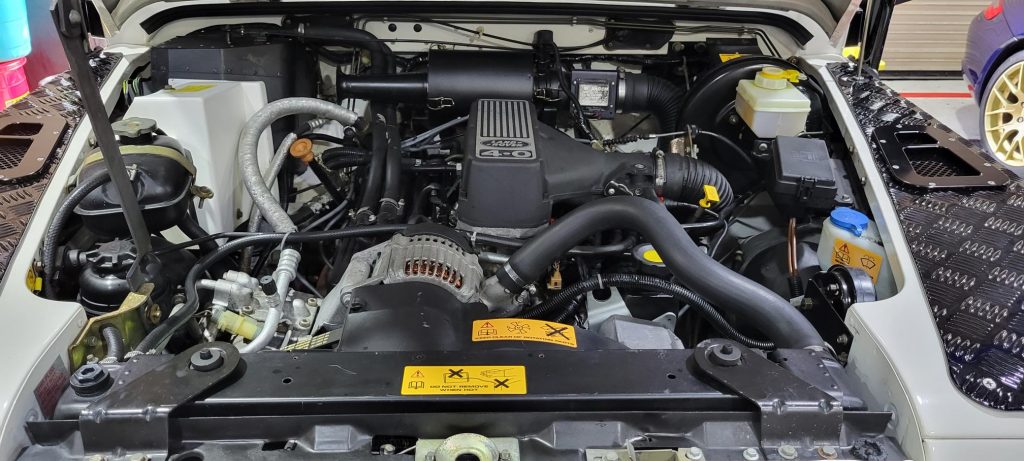 INTERIOR & EQUIPMENT
The whole interior was completely removed from the Defender (excluding dashboard). This was done to inspect the floor boards from the top as well as the structure of the body to ensure no major problems. The entire body on the interior does not have a single spot of rust, repair or physical damage. Completely straight and clean. A great platform to work with.
Both front seats are the originals however all new foam padding and new material was replaced to them with a custom plaid center style fabric and marine-grade stitching and grey leather. The original rear jump seats were removed all together, and two custom bottom cushions made from the same fabrics were installed. The original rear rubber floor mat was completely discarded and a brand new one installed with the Land Rover logo. The sun visors were also redone with the same plaid fabric and finally a set of genuine red seat belts.
The original rust-free floor panels were cleaned and protected before the new 3 piece molded rubber floor was installed on the front and a 1 piece Genuine molded rear rubber floor mat with Land Rover logo. All of the hardware on the interior was also replaced with stainless, again thinking with regards to corrosion protection and appearance.
The instrument cluster is the original from the vehicle verified with the date of manufacture as well as the proper font style on the numbers. A set of custom stainless gauge rings were installed as well as turn signal and horn buttons to match. A MOMO prototipo heritage wheel was put in place of the old wheel providing a nice clean touch to finish the interior.