This is a very rare 1993 Porsche 964 coupe. It was special ordered in Amethyst Metallic. Additionally, the purple interior was also ordered to match. This car was also ordered with most of the normal options found on a 964, but a few extras including factory Limited Slip Differential, technic package and draped leather seats. Definitely a striking and unique example as the code 0991 is noted as Porsche's "manufacture from exclusive programme" verified that was a special order vehicle. Moreover, it was one of only 520 C2/C4 coupes imported into the U.S.A. in 1993.
While this was a three owner vehicle that started it's life in New York and worked it's way down to Florida with owner 2 and 3. We received it with a clean title and has a clean carfax. Best of all this was a non-smoking vehicle so that was a major plus. While we do get projects that require a lot of effort to restore interiors, this car's interior was all original and well cared for. The only exception was as expected some light wear on the left bolster of the driver seat. All instruments were functioning so we had a great car to begin with.
An engine leak down test was performed by TuneRS when first receiving the vehicle, with all cylinders showing less than 5% across all cylinders indicating a good sealed motor. The engine is in solid condition and has no leaks or known problems. It is the original 3.6L, matching number paired with the original 5 speed manual gearbox. The car runs strong and smooth. The handling is also fantastic, a set of new Bilstein sport shocks and european sport springs were installed for the perfect ride height and handling.
This specific 964 was repainted by TuneRS. The original paint took a beating from the hot Florida sun. Therefore, we completely stripped this car's paint down to metal and repainted properly with the correct color and all Glasurit line materials. All professionally done in house by TuneRS. We even matched the correct version of the original Amethyst Metallic paint. The vehicle had no accident history on record. This car was intended to be showroom perfect for our client, with a few nice subtle upgrades. Once this 964 was completed with paint, all new Genuine seals were installed and a new front windshield glass for a perfect finish. A lifetime ceramic pro coating was then applied to the exterior to ensure maximum UV and paint protection.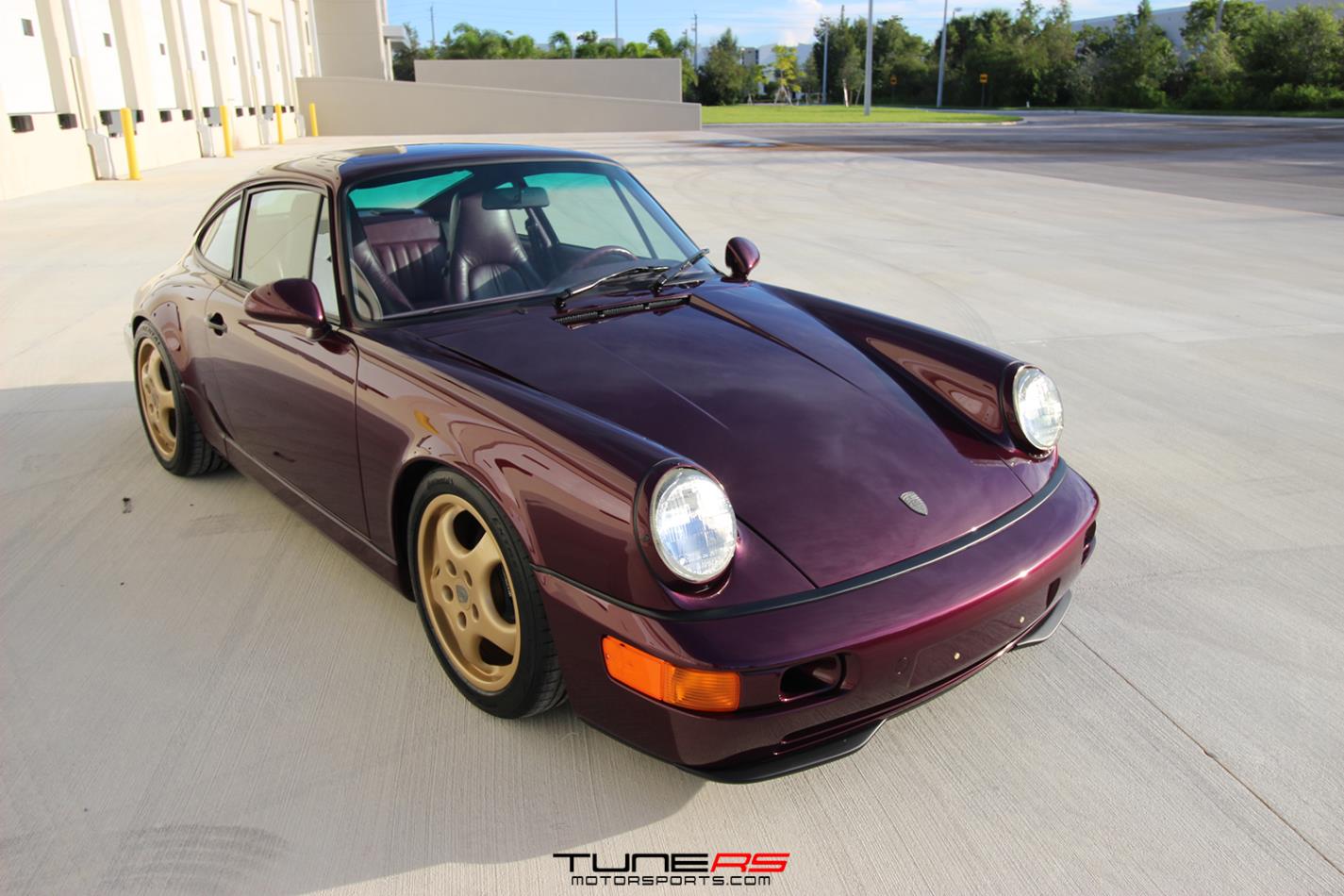 We made certain that our client got a car that could be enjoyed right away while enhancing the performance and aesthetics of this rare 964. Here is a brief snapshot of the updates we installed:
Original 17″ Porsche Cup wheels (17×8 , 17×9) with fresh new Continental Extreme Sport Contact rubber all around
Wheels were painted in a unique bronze/gold color to create a stunning contrast from the amethyst metallic exterior
Equipped with a custom Tire Pressure Monitor System (TPMS), a nice feature for a classic vehicle
European sport springs installed with a set of new Bilstein sport shocks (front & rear)
Front urethane air inlets with hidden hardware
Front RS style lower splitter set
Rear urethane center bumper, European, with custom work for center exhaust done by TuneRS
Original 997 GT3 center exhaust muffler installed in loud position for the ultimate flat six sound!
Set of custom exhaust headers, no catalytics or heat box.
Upgraded radio to Porsche classic with navigation (not pictured)
Lifetime ceramic pro coating finish to entire exterior
Ceramic lite applied to all interior components for ultimate protection
Of course we wanted to make certain that our client could enjoy this car right away so as to avoid service visits shortly after completion of this project. Here are all the maintenance items we addressed:
New spark plugs and spark plug wires
New air filter and new Bosch air meter
Brake fluid system flushed
All new drive belts
New distributor caps
Engine oil and filter (genuine red filter)
New fuel filter
Fuel injectors serviced
A/C system serviced with new freon and oil
New Interstate battery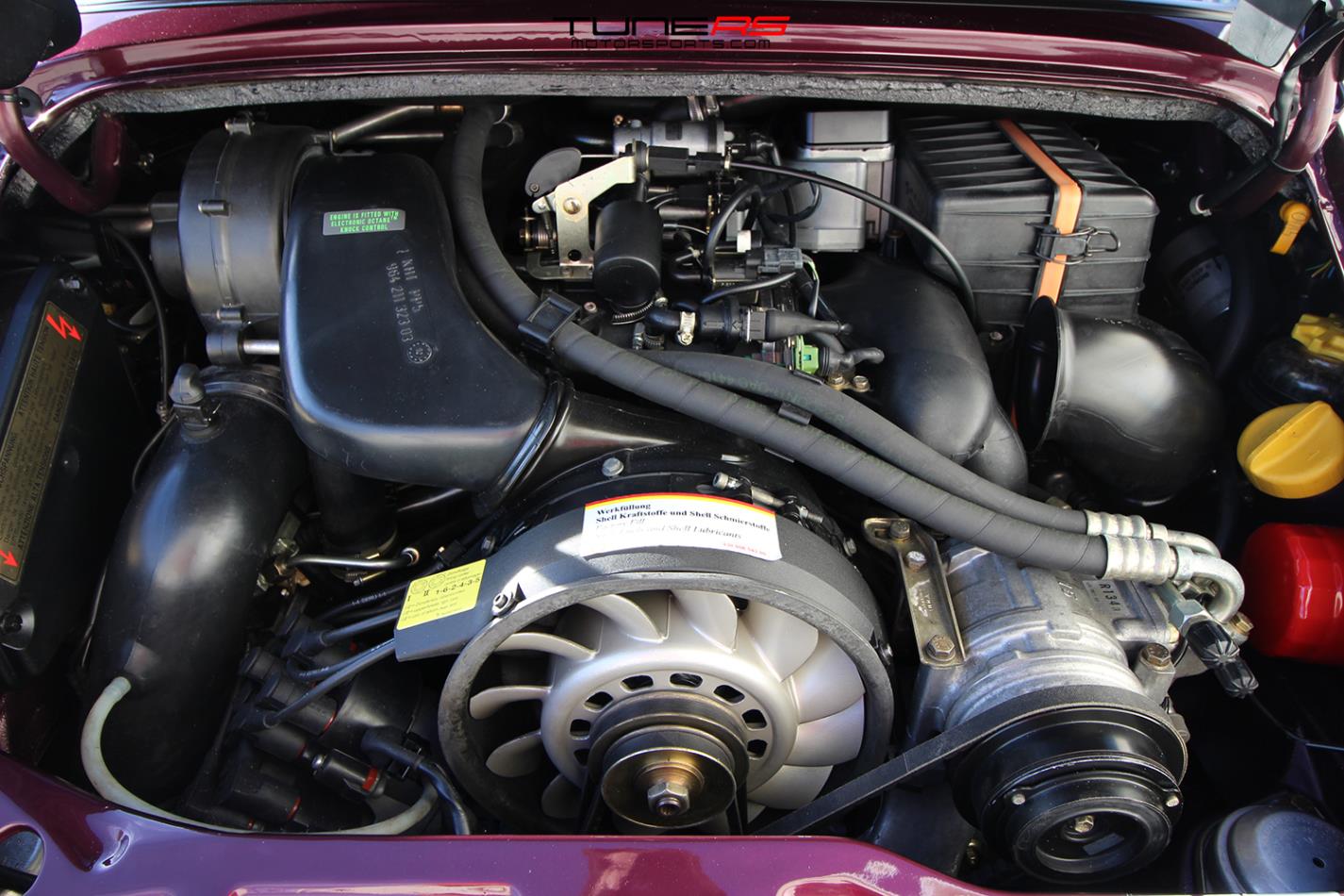 The car also underwent a complete CryoDetail® dry ice cleaning procedure. This service removes all of the grime, dirt, debris, anything that may have stuck to the vehicle undercarriage for years and brings it back to a factory-new showroom finish. You will notice this immediately in th Cryo photos displaying the installed factory original exhaust.