This Maserati Merak was found literally inside of an abandoned house, hence the term "barn find" can be applied to it. It sat for years and years without moving in the previous owners garage for reasons unknown to us. A chance to recoup this special vehicle and bring it back to life was bestowed upon us and we could not pass up the opportunity to give this Merak a revival. Based on the official Merak registry, only 1,817 Meraks were produced by Maserati, with only 647 of those being designated Merak's (non SS / non 2000) so it makes it even more of a rare and interesting Italian 70s era vehicle.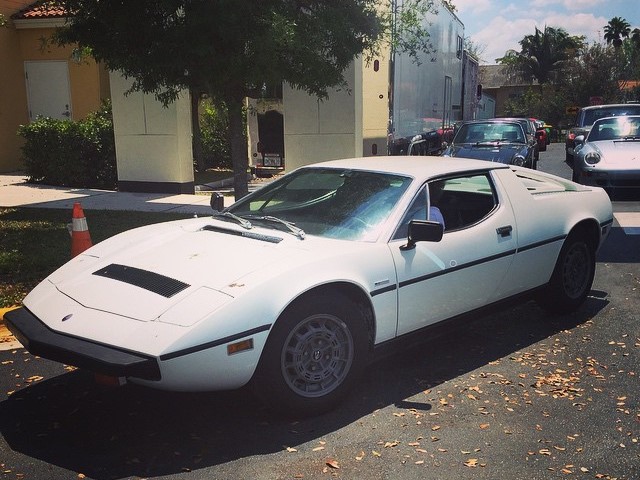 The first step performed on this Merak was to completely remove all of the drivetrain, suspension, steering and braking components leaving it a bare shell with the frame intact. The great thing about this specific Merak find, every component was there without a single piece missing. Most of the parts had a lot of surface rust but we found little to no rust that had actually eaten through the bodywork itself which was a great surprise.

Once the drivetrain was all dismantled, the pieces were cleaned up and sent out to be treated then plated or powder coated to original finish. While that process had begun, the next step of dismantling started. All of the glass and body panels were removed and the shell finally sat bare ready to be stripped to the metal. The Merak looked to have had all of its original paint but it was unfortunate how it was mistreated and there was no way to save it so everything was to be removed. Once the paint was stripped down it was evident that the Merak had all of its original panels in place. These cars were all hand made and welded together. All of the original stitch welding was there and even some of the original body filler they used back in the 70s to create "even" surfaces on the bare metal was there. This was the best surprise of all for this Merak project making it truly 100% original.
After the strip down and clean up of the metal work was completed, the body and all the panels have been treated, sealed and primed. The next step is to send the car off to the booth to have a new coat of paint applied. It will be kept the original white color it came with to maintain factory originality specifications.
Here are a few images of our work so far. Feel welcome to check back for updates.