This vehicle was SOLD.
This is Spec Boxster build #008 by TuneRS Motorsports. It is painted Riviera Blue with Orange-glow accents. All of our Spec Boxsters are built in house at TuneRS facility in Coral Springs, Florida.
Each one of our Spec Boxsters is built to compete while staying strict to the rules set forth for Spec Boxster. All Spec Boxster's built by our team here at TuneRS are race ready from the day you receive it and are built to handle sprint racing to endurance racing. What sets our Spec Boxsters apart from other SPB builders? Our attention to detail the team puts in to each and every vehicle build. Below you will find the specifications this Spec Boxster has received during the build (in progress). Quality is key when building a racing vehicle or any vehicle and knowing that our Spec Boxsters will compete with the best and endure hours and hours of racing is what helps set us apart from the rest. These Boxsters are not put together overnight; they are assembled over a several month period with different phases through the build to ensure no corners are cut and that you, the client, are receiving the best of the best. Every part that is installed is factory new; no used or remanufactured components are ever placed into our Spec Boxster builds. This backs up our "new, zero mile" claim on the components installed. Even the vehicles we choose to have the Spec Boxster race conversion performed are chosen under strict guidelines which include zero accidents and straight tubs.
This Spec Boxster had it's entire body stripped down to nothing. All of the original seam sealer was even removed to shed maximum weight. The tub started as a clean, straight, non-accident vehicle which was the perfect candidate. All of the wiring harness was removed and cleaned, removing all unnecessary wiring to continue with the weight reduction. The wiring was then re-routed with the fuse box and relay box to the passenger side of the vehicle to help with better weight distribution and ease of access.
Specifications:
ENGINE & TRANSMISSION:
– Completely rebuilt 2.5L engine, including Direct Oil Feed (DOF) with new IMS bearing. Zero miles, zero hours
– Custom 2″ straight through SS exhaust with stock exhaust manifolds
– Drop in K&N high flow air filter with stock air box
– TRS 4″ under drive pulley with a/c delete
– Sachs performance clutch kit
– AASCO Lightweight Flywheel
– Semi-solid engine mounts
– TRS 2 quart deep sump oil pan kit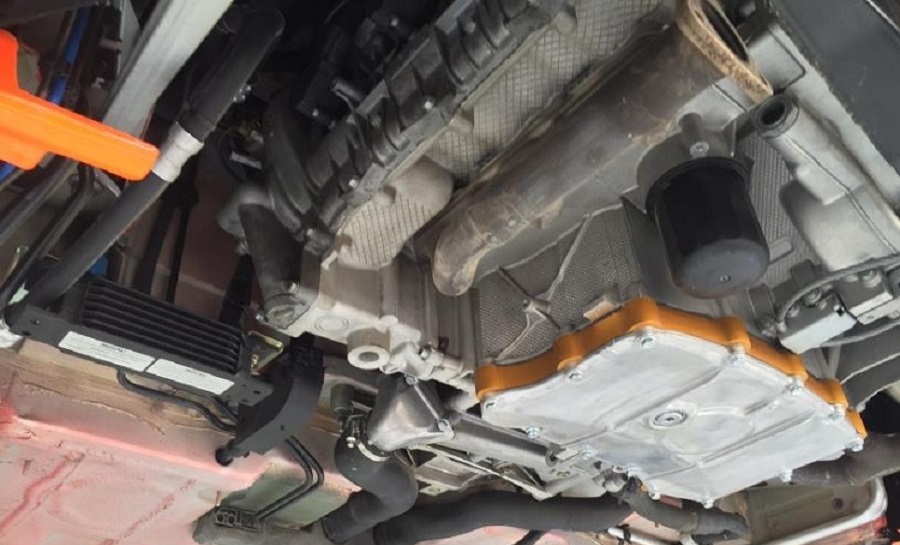 SUSPENSION & STEERING:
– Bilstein PSS9 coil over shocks with Swift race springs (450lb/500lb rated)
– GT3 front sway bar, 5 point adjustable with Tarett extended drop links
– Tarett rear 4 point adjustable sway bar with Tarett drop links
– New wheel bearings front & rear
– GT3 lower control arms front & rear
– New stock front strut mounts/bearings
– New stock rear strut mounts
– TRS rear adjustable toe control arms
– New outer and inner tie rod arms
EXTERIOR:
– Urethane single stage Riviera Blue with orange glow accents
– Lightweight TRS fiberglass roof panel with dzus quick release fittings and lexan rear glass
– Rear spoiler mounted in upright position
– GT3 cup front lip spoiler
– Standard headlamp assemblies
– TRS undercarriage tie downs front / rear
– 17″ twist wheels, square setup (17×8.5 front / 17×8.5 rear)
– New Toyo RR 255/40/17 tires mounted
– Aerocatch quick release panel system front / rear
– Boxster S front bumper
INTERIOR & SAFETY:
– 6 point weld in roll cage, FIA approved design, 1.5″x.095″ chromoly tubing, tig welded for superior strength and rigidity
– All original seam sealant has been removed for ultimate weight savings
– All wiring has been stripped, lightened, cleaned of unneeded components and transferred to passenger side for weight distribution
– Complete A/C removal and electronics removal
– MOMO Quick release wheel adapter
– MOMO Suede steering wheel w/flat bottom
– Seat (TBD with purchaser of vehicle)
– Reinforcement backing plates under seat slider
– Reinforcements for seat harness supports
– Driver side window safety net
– Center window safety net
– Safecraft 5lb manual dual pull extinguisher system
– 6 pole kill switch, dual pull
– Start/Stop panel with master kill switch, 2 switch system for accusump & trans cooler
– Numeric racing short shift assembly with Numeric Racing shift cables
– TRS shift cable security clips
– TRS shift base raise kit
BRAKES:
– ATE slotted front & rear rotors
– PAGID Yellow brake pads front / rear
– TRS braided brake lines
– System flushed & filled with Castrol SRF racing brake fluid
– TRS front brake air deflectors
ADDITIONAL COOLERS:
– Accusump 3 quart "bazooka" system with external oil cooler and TRS heat exchanger delete
– TRS transmission oil cooler kit
– TRS power steering oil cooler kit
– Additional third coolant radiator in front center