DOF Warranty Registration
While working on rebuilds for a number of water cooled Carreras and Boxsters around 2008 we noticed that the the much talked about culprit of many engine failures on Carreras, Boxsters and Caymans between 1997 and 2008 was not necessarily just the IMS or Intermediate Shaft Bearing. While some will argue about the bearing design itself, we noticed that the common issue for many engine failures was due to the sealed IMS bearing eventually losing it's internal lubrication and the bearing requiring more lubrication to help increase the bearings longevity, not the bearing itself. We found a simple solution that would solve this issue of lack of lubrication and began the development and testing, our patent pending Intermediate Shaft Bearing Direct Oil Feed System (DOF)® lubrication kit for the IMS bearing. The bearing is not the problem; it's the lack of proper lubrication.
Miguel (Mike) Potolicchio of TuneRS spent over three years designing, testing and developing the Direct Oil Feed (DOF)® system (Copyright TuneRS Motorsports2013). During that time several vehicles were picked during the development stages and prototypes were installed, carefully studied and documented. The first finalized, non-prototype DOF® was presented in early February at the 2013 PCA 48 Hours at Sebring. We placed the first finalized DOF® on our #93 Spec Boxster for the 48 hour event and documented the results (specifically oil pressure drops and other parameters) afterwards. The oil fed to the ball bearings has also been cooled, dropping temperature significantly on the bearing of an average of 30 degrees F. After the success and interest at Sebring we began to offer our Direct Oil Feed System (DOF)® lubrication kit as a solution for all MY97-08 M96 and M97 Porsche engines with IMS bearings.
Several years later repair facilities that service Porsches as well as highly skilled and well equipped do it yourselfers are upgrading their Porsches with our DOF kit. TuneRS Direct Oil Feed (DOF)® kit uses a patent pending custom made Intermediate Shaft Flange that enables a direct flow of filtered and cooled motor oil directly to the original Intermediate Shaft Bearing. The bearing receives oil fed by a custom oil line run from the positive oil pressure feed located on the engine valve cover directly to the custom designed Intermediate Shaft Flange. This much needed lubrication has direct access to the ball bearings as the outer seal on the bearing is removed to allow the oil flow. Therefore providing the bearing with continuous flow of filtered engine oil for constant lubrication.
Direct Oil Feed (DOF) Installation Guide (PDF)
---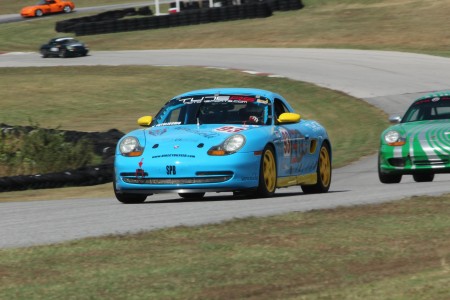 RACE TESTED!
If a TuneRS race car is built with our Direct Oil Feed then we think you will want it on your Porsche. The TuneRS kit also includes an optional purchase of a steel SKF bearing to replace your old IMS bearing that might as well be replaced to start with a fresh IMS bearing. Worth noting, some of our clients prefer to install ceramic ball bearings for the benefit of lowered friction and temperature isolation. Other options on the market such as roller thrust bearings especially need lubrication due to the large contact surface that increases heat and friction in roller bearings. Regardless of the bearing selected, it still requires lubrication for the bearing longevity.The TuneRS DOF® provides constant bearing lubrication to try to alleviate that risk and is an excellent way to protect and potentially add to the resale value of your Porsche.
ORDERING AND INSTALLING YOUR DIRECT OIL FEED
While we provide step by step instructions for installing your Direct Oil Feed on your Porsche we suggest you consider whether you are equipped with the appropriate tools, time and mechanical inclination before taking on this project yourself. Some of our clients have performed this service themselves and we have complete faith in our customers, our installation guide as well as our product. If you are not sure about whether you can handle this yourself then we suggest you have this service performed for you at a reputable shop if you are not near our facility in Coral Springs Florida. Please click the links to the right for ordering from us or locating a shop or distributor that may be closer to you. Plus also feel welcome to click here to visit our developmental and FAQ page to learn more about our Direct Oil Feed Kit.
PROUDLY MANUFACTURED IN AMERICA WITH A LIFETIME WARRANTY